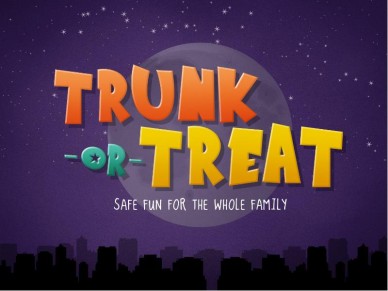 We are so excited for Trunk or Treat!
Save the Date: Saturday, October 26, 2019 from 5-7 PM
2019 will mark our 4th Annual Trunk or Treat at OBPC and we are thrilled! This Outreach event has brought to our church new life and excitement. We have reached more families in our area and reminded our community that OBPC is alive and filled with the welcoming Holy Spirit!
To celebrate our 60th Anniversary we want to make Trunk or Treat extra special by sharing with the community what brings us together; our love and faith in Jesus Christ. This year all of our cars will be decorated in Bible story themes or a theme that shares the love of Jesus. We will also be collecting canned food donations for Halifax Urban Ministries, and pet food and kitty litter for the Halifax Humane Society.
Trunk or Treat will also include face painters, a balloon artist, games, inflatable slides, obstacle course, bounce house, and a $3 for 3 shots at the inflatable basketball game (funds raised will go Halifax Urban Ministries). As always, this is a free event including food, drinks and dessert with the exception of our basketball fund raiser.
We are looking forward to seeing all of you again this year! Halloween costumes are encourage for every age, and bring a friend. All minor children must be accompanied by an adult at all times.