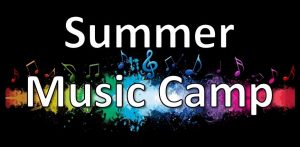 Summer Music Camp will be July 8th-July 12th 9:00 AM – 12:00 PM, with the performance on Friday, July 12th at 11:30 AM.
Spread the word and invite friends and neighbors to this incredible opportunity for 3rd-9th graders to grow as musicians and disciples who worship and serve the Lord through the gift of music. Your child will receive professional musical instruction in choral techniques, learn to play choir chimes and Orff instruments, play games and have a delicious snacks.
Space is limited so register soon!