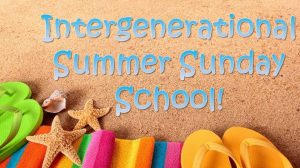 One generation commends your works to another; they tell of your mighty acts. (Psalm 145:4, NIV)
Join us on Sunday mornings at 9:00 am in the Haddad Fellowship Center from July 9-Sept 3, for an
Intergenerational experience of opening the gifts God has given to us. We will be exploring the many gifts God gives to us and how we use those gifts to worship and serve. We will do so by exploring bible stories and the stories of our lives. There will be time for table discussion among adults about the Scripture while our children have children's choir time. Then, we will share stories about gifts such as bravery, giving, faith, and more. See the chart below to see the stories.
Share your story! Do you know someone who has done something really brave or who has a giving heart? We need people who are willing to share stories from their own experiences or a story they know about people who have these gifts. If you will share a story, please contact Pastor Leigh.
Bible Story – Gift:
Anna – Prophecy
Esther – Bravery
Ruth – Discernment
Widow – Giving
Mary & Martha – Administration & Spirituality
Timothy – Evangelism
Hannah & Eli – Faith & Shepherding
Samuel – Leadership